For all of my blog readers that don't follow us on Facebook…
We have a fun tradition of unloading the truck, cobbling together the days finds and taking a picture of the loot.
Fresh off the truck…dust and all…..raw and real!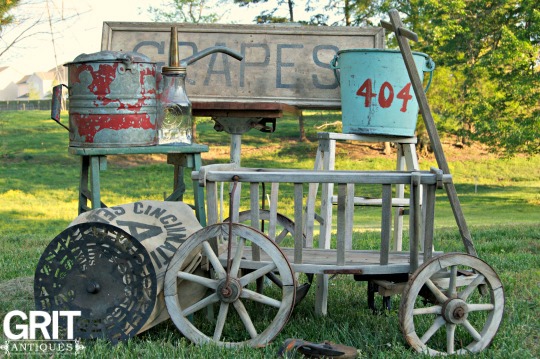 If you do follow Grit on Facebook you'll have seen my posts after a day of roaming the back roads of the southeastern United States.  It is fun to bundle the day's finds for a quick snapshot without all the fuss of trying to get the "look" just right.
In all honesty these photos were never taken with the thought of them hitting my blog.
You may ask why the change of heart…my change of heart stems from you!
Fact: Not everyone has the time or maybe even the desire to put on a dust mask and a pair of gloves and go rooting around the contents of an old barn.
Fact: Everyone may not have the time to peruse the aisles of local flea markets in the wee hours of the morning.
So when we first posted pictures after a day of picking on Facebook, we were surprised to have folks asking us about certain items.
Lightbulb: Take pictures of all our trips and allow folks to come along on the trip and lay claim to "first pick" to the things they see and love.
The bundles are as eclectic as the places we discover them.  Everything from a porcelain sign to an antique dress form…
…to a 7 foot marquee arrow from a drive-in movie theater in Kentucky!
You just never know what the day might bring…but then again, neither do we
Would love to hear what you look for…share your photos… your story!
&
I hope you enjoy my "not so glamorous" side of junkin!
Kindly
Jane