Jane has often thrown the idea around of having the "guy's" opinion on her blog.
As a reluctant contributor, I have declined the opportunity, lest anyone have to listen to me ramble on.
 Now don't get me wrong, I am absolutely willing to support my wife in any way possible, but I prefer to do it in the background.
So why the change of heart?
Well, because it is a barely believable tale that picks up in Round Top, Texas where Jane's first post left off.
And….because frankly, I owe her…..BIG!
To start this post from the male perspective, I think it would be important to let you in on some of the decisions that steered our agenda.
Jane mentioned the incredible antiques at the Blue Hills field on our first day.
Truth be told, the antiques didn't land us there but rather the Methodist Men's BBQ that has been voted the best in Round Top!
After a short 20 minutes of picking we sat down to some of the best smoked chicken I have ever tasted.
The fact that we were surrounded by some of the coolest antiques in the country was but an aside to the fact I could cut my chicken with a fork.
Day one was a success!
On day two, I found solace in Jim, from Mobile, Alabama who was also standing outside the Junk Gypsy's store while his wife(and mine)did who knows what inside.
We talked about the state of Crimson Tide football, a little NASCAR, and what type of gas mileage we thought the Gypsy's pink suburban "Large Marge" gets on the highway.
Jim, I doubt your reading this but if you are, thanks for the tip on Warrenton and the conversation.
Warrenton was a guy's field.
Where Blue Hills was thoughtfully displayed, Warrenton, was full of vendors that had rusty junk piled just high enough not to become a safety concern.
 Porcelain signs, old highway plaques, and every old rusty tool and tractor part you could ever imagine was out there waiting to be uncovered.
Where Jane gets enamored by the look of something, I am drawn in by the history and the provenance of an item.
Honestly, I get "eat up" by it, so when we came across these heavy 18th century cast iron street markers from Europe, I was instantly sold.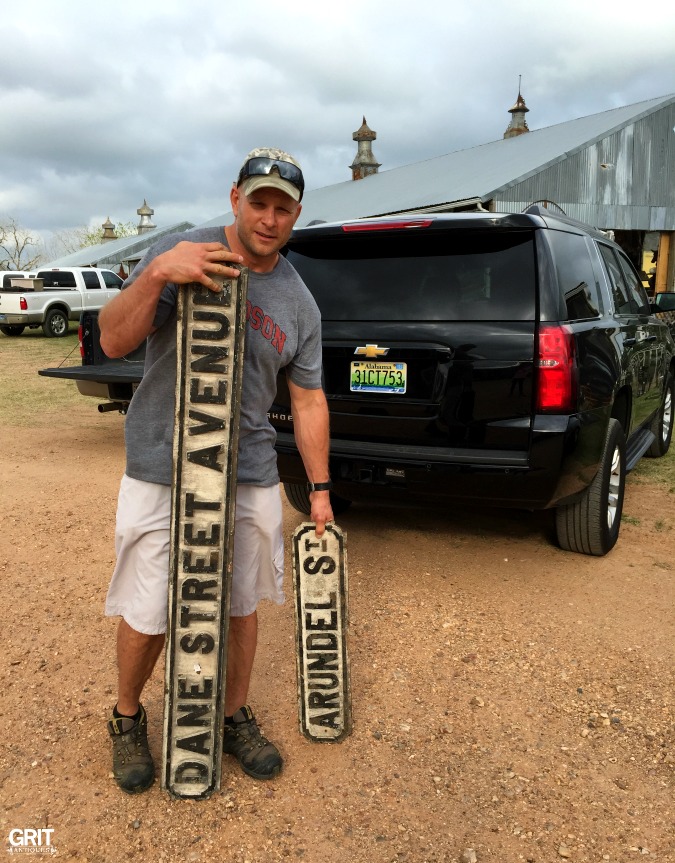 Something that old and that heavy just doesn't exist anymore.
After, walking the equivalent of a marathon(that is, not a joke) and unsuccessfully trying to talk my wife into a giant $8 Texas sized Ding Dong, we headed back to our cabin, but not before stopping at the last field before the interstate, La Bahia.
When we got out of the truck, we had found what we had come for…an incredible collection of primitive painted furniture and old farm antiques.
In my head I was praying..please be affordable!
And guess what, it was!
Only problem was it had all been sold.
 ALL OF IT!
My heart sank.
How could this be?
Well a short conversation with the owners of the tent(maybe the nicest people I have met in this business) left me with the knowledge that people line up early in anticipation.
They opened at 8am and the stuff was about gone in 25 minutes.
After apologizing to me for selling out 7 hours before we got there(I told you they were nice) they told me all there small items would be offered the next morning.
 A chance to compete in Round Top!
Now that gets me going…we would definitely be there.
So my competitive side got the best of me, and sure enough we were back at La Bahia at 6:50 am.
We were WAY early yet still third in line.
My anticipation built until 8:11 when they lifted the flap on the tent and the crowd rushed in.
 I quickly grabbed an old porcelain Bus Stop sign and several of these "whatchamacallits," hand painted with numbers.
We also loaded up on a bunch of old goat gates, I had the feeling of accomplishment.
 That is until I loaded our recent purchases.
 My excitement got the best of me and I locked the keys in our rental car.  Ugghh!
No big deal, call AAA, get them to unlock it and we will be on our way.
Yep, that was the plan, and it was executed flawlessly until I didn't think to ask for my driver's license back, a fact that didn't dawn on me until we checked into our hotel in Austin (90 miles away) that evening.
Not able to reconnect with the tow truck driver and obviously worried, I called TSA and asked how that would impact my ability to fly home?
Needless to say I didn't get the answer I was looking for.
Now I have never been close to winning a "handsome" contest in my life, so I would like to believe my wife saw past that and I impressed her with my smarts, but that was out the window now.
 Mentally beaten, I sheepishly emerged from the phone call and told my wife, we would have to drive the 16 hour, 1200 mile trip home.
Her reply of, "No problem, we will just go back to Round Top tomorrow, load up the truck and make a story out of it.
" Really!? That's it?"
 No disappointment, no anger, no nothing….  This is why I love my wife, who does that?
 But then again who marries an idiot!
We headed back to the fields, picked until noon, and successfully navigated the trip from Round Top, Texas to Davidson, North Carolina.
I hope you enjoyed this, sorry its long, but with my penance paid, this is my one and only post…or at least until my next bonehead move..
Kindly,
Shaun