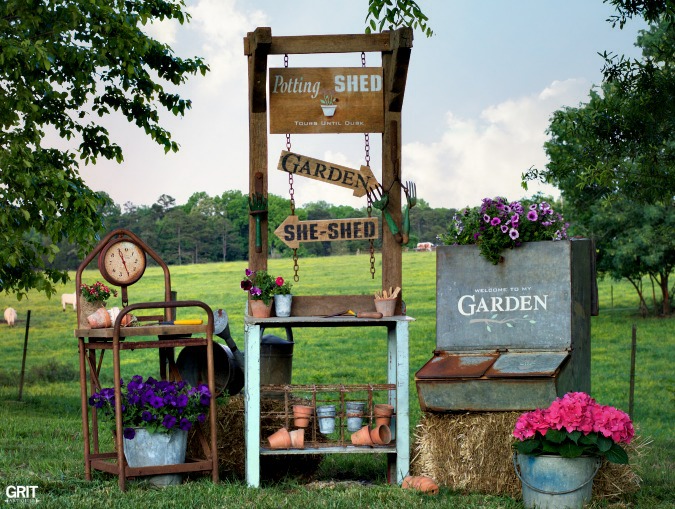 We have something fun happening on the blog today!
We're taking part in a blog hop launch & giveaway!
Funky Junk's Old Sign Stencils 
has launched their
&
 supplied us with paints to get creating!
You heard right a Giveaway and YOU have a chance to win!
There will be one giveaway package of both stencils, and Fusion Mineral Paint colors.
How do you enter?…simple…..just comment below and you have a chance!
Now let's get this party started 🙂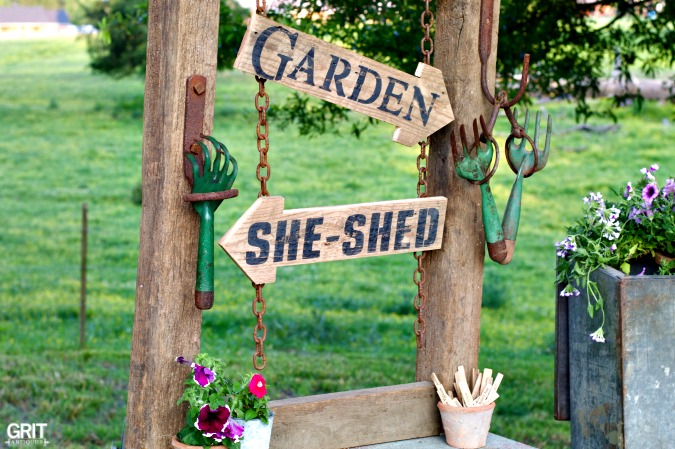 When I was asked to take part in this blog hop amongst some truly talented bloggers…I nervously accepted.
I mean let's get real…I pull my stuff out of barns full of dust and cobwebs…I'm a Junker!
Truth be told, this opportunity combined two of my favorites.
I love creating with Old Sign Stencils and I grew up with my Mom in the garden.
 So what better theme than something that took me back to some truly wonderful childhood memories.
With "garden" as the theme I set out to create a little potting area.
We took an old metal table with amazing color and attached 100-year-old wood to create a canopy over a potting area.
I made it functional by adding some rusty hooks to hang garden tools and an old chain for the sign.
This was the first time working with Fusion Mineral Paint and it was wonderful.
This green(Lily Pond)quickly became my favorite.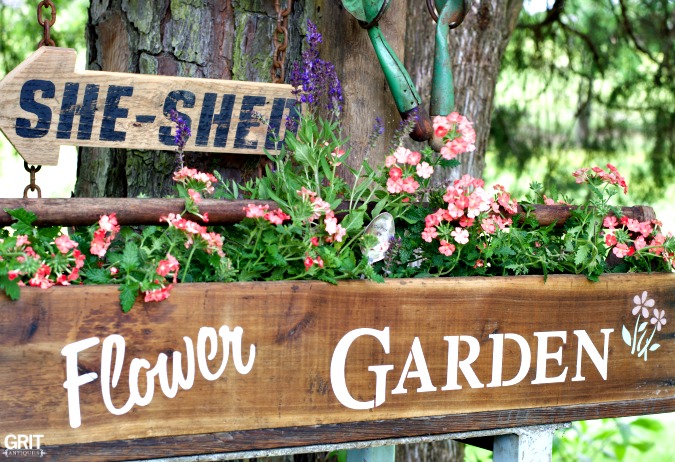 With the growing popularity of "she-shed's" we couldn't resist using a little creative license and having a little fun with the Potting Shed stencil!
This old weigh scale originally had a metal top, but my hubby was convinced that an old wood top would look better.
I had my doubts, but he was right, and it brought a charming simplicity to both the stencil and the scale.
Next, I took an old rusty hog feeder and transformed it to a welcome sign and new home to a pair of pretty purple petunias…onomatopoeia anyone 🙂
I've had so much fun playing with these new garden stencils and love how you can couple previously released stencils with the new ones.
Sooo  what do I start with…a small pile of rusty metal pieces that had seen their best days behind them…otherwise know as junk!
If you ask me adding the Garden Stencil to the hog feeder completely changed the look and feel!
How simple is that!
My kind of simple…the hardest part is keeping your brush dry when you stencil!
The key is to tap your brush on something absorbent to ensure your brush is dry.
I also tap it on the top of my hand before I start and then simply tap your brush up and down.
I'm still a work in progress, but when I get it just right it looks so good and adds just enough to an old piece to make it a little more fun.
So how do you have the chance to win…
*The winner of this giveaway is Ruffles & Relics!  Congrats!*
Visit Fusion Mineral Paint(here) and then come back and in the comments tell us which is your favorite color, and you're in!
For a second entry, visit Funky Junk's Old Sign Stencils(here) , then come back and in the comments tell us which is your favorite stencil design!
For a third entry, subscribe to my blog and then comment in the blog to let me know 🙂
This giveaway is open to residents of Canada and the USA, 18 years or older.  Void where prohibited. Each blog will draw one name from their comments, which will be pooled together to pick one ultimate winner. This giveaway ends Sunday, June 5th, midnight Pacific, and winner will be emailed and announced on this post Tuesday, June 7th.  Good luck and happy stencilling!
Disclosure / I am part of a blogger program, where Old Sign Stencils & Fusion Mineral Paint sent for me to trial, however I have not been compensated for this post. 
The Winner of this giveaway is Ruffles & Relics.  Congrats!

You won't believe what these talented bloggers came up with…go ahead, have a look and find your own favorite…plus more chances to win!
I used
Coal Black – letters
Champlain – letters & plant pot
Algonquin – plant pot & branch
Lily Pond – stem, leaves, and "dot" in Potting
Damask – flower petals
Have a look around at my previous stencil posts below for more design ideas
I can't wait to hear from all of you 🙂
Kindly,
Jane